Looking for a career a Lidl less ordinary? Lidl Northern Ireland is your one stop shop for an exciting journey shaped by you! At Lidl, no two days are the same and we wouldn't have it any other way. Get ready to be catapulted into retail in the fast lane because when you're expanding as fast as us, you need a team of exceptional high performers working together to drive rapid expansion and innovation.
We're always looking for motivated people who are in search of a challenge to make our stores, products and shopping experience a cut above the rest.
Read more about us below to find out why there's never been a better time to join Lidl Northern Ireland.
Busy is our middle name
If you're the kind of person who likes to be busy, then Lidl is the place for you. In our close-knit, high performing teams, there's always something new and exciting on the horizon and for those of us who don't like to stand still, this is a place, and a pace, that we enjoy.
We all pitch in
We're one team – we support our colleagues, roll up our sleeves and get things done. From Customer Assistants, to Store Managers or Warehouse Team Managers, and our Head Office support teams to our Board of Directors. We're all in this together.
Continuous progress is fundamental
As our business grows, so do the opportunities for our people. As individuals, as teams, and as a business, we strive to make progress whatever we are doing, and at a pace you won't find elsewhere. Lidl is a trailblazer in the retail industry routed in efficiency, delivering the highest quality products at the best value on the market.
Simple efficiency is key
We're successful because we keep it simple; we care about getting things done and doing them right. We measure everything, to ensure we're using our time most efficiently and most effectively. We are agile and adaptive, and we don't miss a beat.
We trust and support each other
We'll give you the tools and training you need to be your best and we trust you to take on responsibility and run with it, but when you need support, help is never far away.
We focus on resources on what matters
We invest in the important things: from new stores and better distribution; to better rewards and our people's development; to our social responsibilities and the environment. We're always looking at how to improve ourselves and the opportunities we offer to our people.
We're part of the community fabric
The work we do puts food on families' tables across the island of Ireland. We strive to support the communities we operate in and our 260-strong local supplier network across the country. We're proud to provide secure, local jobs now with many more on the horizon in the future as we expand. We're proud to contribute to the communities in which we operate by supporting our charity partner NSPCC and supporting over 300 local food charity and community groups through Food Cloud donations.
We make a tangible impact
Everyone at Lidl plays their part in our overall success. Although we're lots of different people doing lots of different things, it's all important, and we're all working towards the same goal. No matter your role, you can make your mark as part of our success story.
With warehouses throughout the island of Ireland, you'll always have an opportunity nearby. Check out the map below to see our regional distribution centre locations.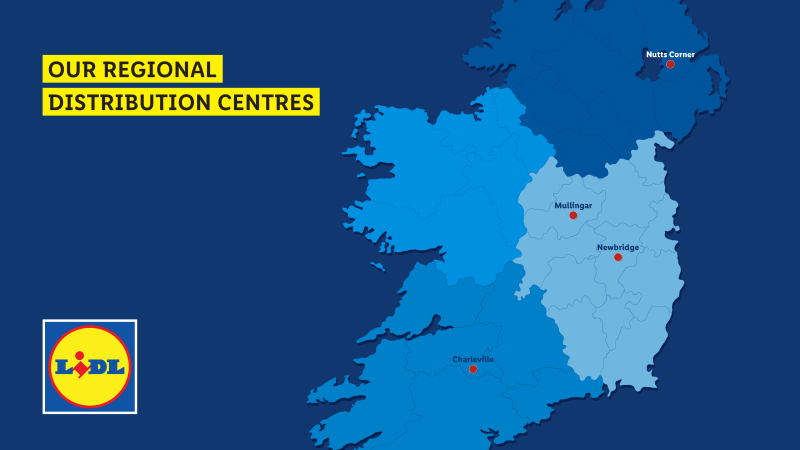 At Lidl we are committed to looking after you not only at work, but also in your personal life. This means that when it comes to your benefits package, we mean more than just the competitive salaries we offer. We have listed some below, but you can read about all of the various benefits we offer on our benefits page.