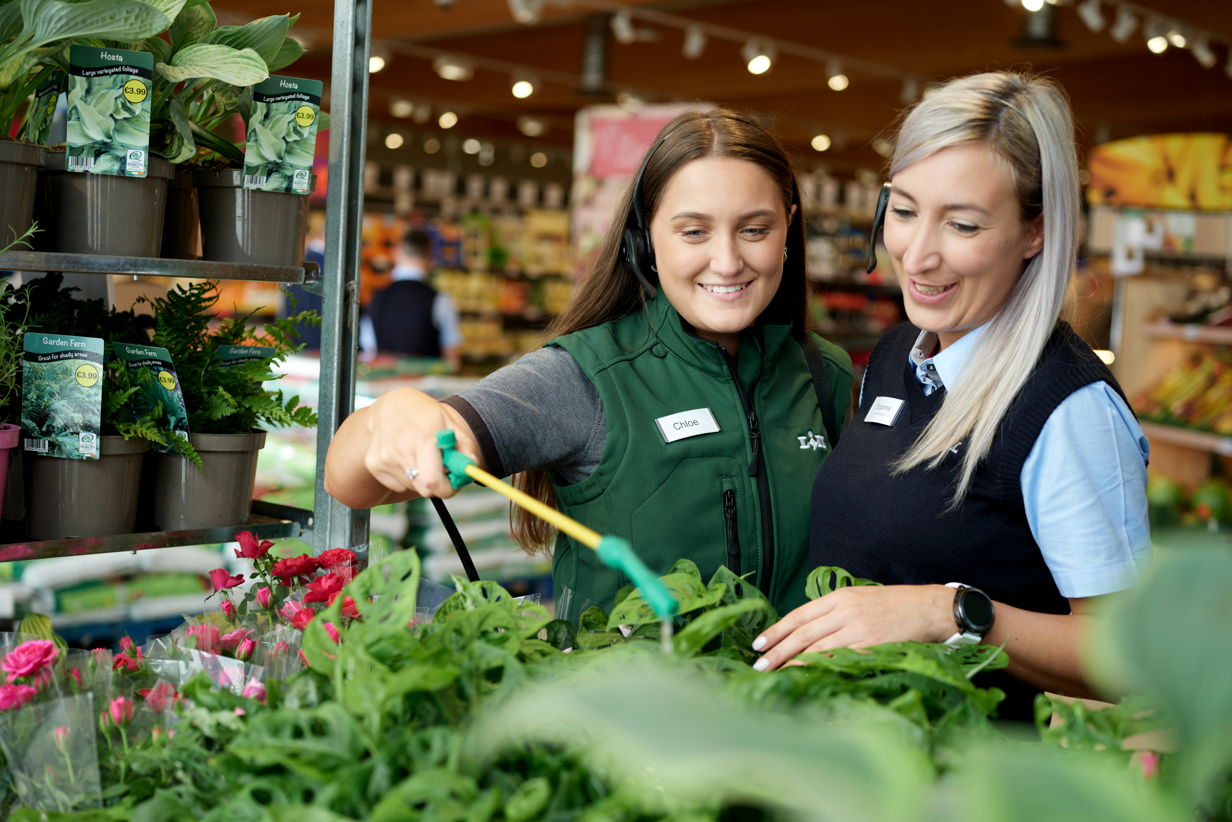 Our vision is to make life better by providing quality food at market leading value, ensuring customer satisfaction is at the heart of everything we do.
Our mission is to deliver outstanding customer satisfaction.
We guarantee quality food through a rigorous product development and quality control process.
We ensure market leading value by constantly optimising our efficient process.
We work with business partners in sustainable relationships, contributing positively to local communities.
We achieve long term success by investing in the recruitment, training and development of exceptional talent.
We consider ourselves trailblazers in the Irish retail space. As an ambitious team, our vision is to make our customers' lives better by providing quality food at market leading value. As a supermarket, we're in the business of food, and this brings us all together. Our team members are our customers and our customers are our team members – that's how confident we are about our offering.
What does this mean for our team? Our values are core to everything we do.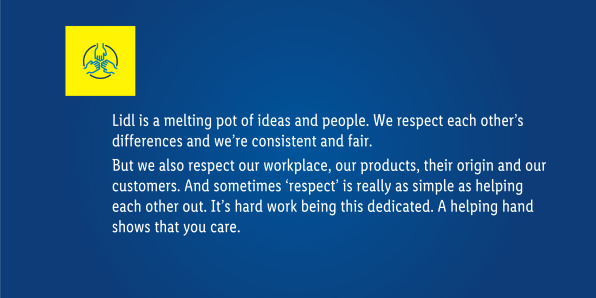 Respect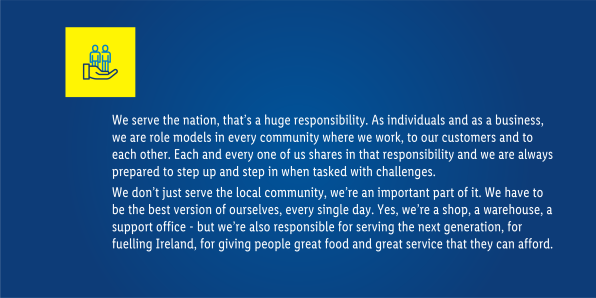 Responsibility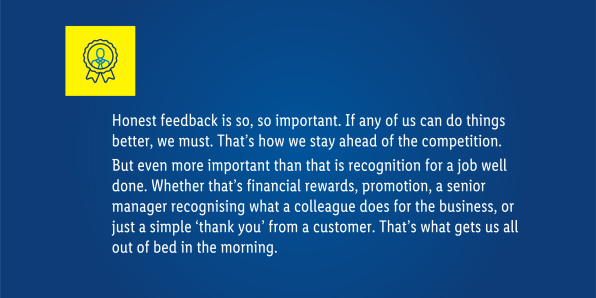 Recognition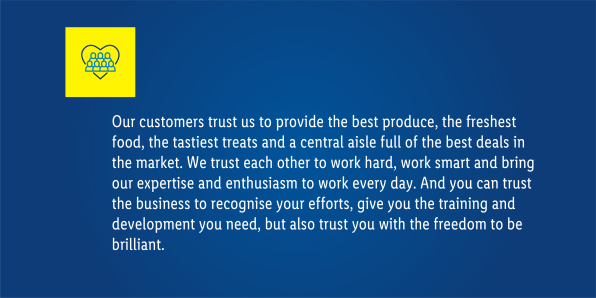 Trust
Our Leadership Principles
Our leadership principles are our mandate and a pledge to our respective teams. Our leadership profile is so simple that it can summed up in five points.
Leadership@Lidl
Leading Through Communication
At Lidl, our way of communicating is just like our business model – straightforward and direct. We are honest and discuss issues directly and promptly with a view to solving them in a constructive way.
Our managers create meaning by explaining our overall vision and ensuring that each team member understands the value and contribution of their work to the business.
We create an inclusive environment by involving our team in decisions. At times when this is not possible we explain the reasons why. We ensure that our teams are the first to be informed. We make sure that they have all the information they need.
We respect team members who have the courage to ask questions. Even if those questions are challenging, we take time to respond to them.
Developing Team Members
We strive to attract the best people for Lidl. This is the foundation of our success and our guiding principle.
We encourage our team members and promote their development, enabling them to do their best work. In return, we ask that everyone demonstrates commitment to their responsibilities.
Our managers are measured against the strength of their team members and their development within the entire company.
Our team members have the right to know where they stand, which is why we provide constructive feedback on their performance.
We understand the importance of recognition. We create an environment in which performance and commitment are recognised and individuals are encouraged to give their best each day.
Good leadership requires a great deal of self-reflection. We encourage feedback from our team on a regular basis so that we as a business can improve and become more successful.
Being Dynamic and High Performing
Refining and continuously improving our core business model is what motivates us. We do not shy away from creating change or innovation. We maintain a business model that has proven to be successful.
Our managers consciously encourage their teams to innovate within the company. The role of our managers is to also open the way for innovation whilst upholding the principles of our business model.
We comply with defined processes. This means that we guarantee a consistent standard across all of our countries, while also adapting to local conditions in a flexible way. This is one of the biggest factors of our success.
We know that: "simple doesn't mean easy." As a discount retailer, we prefer simple solutions to complex ones and our managers make sure our solutions remain consistent with our business model.
We look after our team and promote a healthy work-life balance so that our team continues to be high-performing.
The success of the company is the focus of everything we do and this can only be achieved as a team.
Establishing Trust and Being Fair
We have confidence in our team and trust them to live up to their responsibilities. We strongly believe that every individual in our team is giving their best for Lidl.
We are committed to a culture in which our team have the courage to break new ground. Mistakes are seen as opportunities to learn and grow.
Through supervision we mentor and develop our team to deliver their best work.
Good supervision contributes to the stability of our business and helps us become better.
We are predictable and reliable. We keep our word and our promises. We stick to our agreements.
We treat everyone in an appreciative way, free of prejudice, respecting their personalities and their skills. We interact with each other in a respectful way and expect the same from all of our team members.
We understand the responsibilities of being a leader and take care to prevent any misuse of the trust placed in our managers.
We are all a part of the Lidl team and everyone is treated as partners in this team.
Being a Role Model and Leading by Example
Every single one of us assumes our own leadership responsibility and we independently drive delivery of our tasks - which are clearly defined.
Details are important to us. We are curious, ask questions and are interested in delivering the best for the business.
We recognise that everything our managers do has a significant impact. As such, they lead by example in everything they do.
We give our team members the responsibility and freedom to do their work and at the same time, we set clear boundaries for independent decisions.
When delegating tasks, we focus on the skills and experience of each individual.
We are responsible for our resources.
We are proud of our teams and acknowledge achievements within them.
Corporate Social Responsibility
Corporate Social Responsibility leads the development and implementation of Lidl's CSR strategy, 'A Better Tomorrow'. This includes a broad scope of topics from reducing Lidl's environmental footprint to the responsible sourcing of products and implementation of charity and community programmes. Over the past year some of the projects our CSR team has been working on include planning 82,000 native species trees through the Woodland Environment Fund, launching Ireland's first pollinator friendly store in Youghal, extending our charity partnerships with Jigsaw and NSPCC while also raising a record amount for charity through Trolley Dash and donating over 2 million meals to local charities through Food Cloud. Lidl's commitment to sustainability had been recognised by being named Ireland's Most Reputable Food Retailer in the Reptrak study 2020 and being awarded 'Core', The Standard for Responsible Business in Northern Ireland.